01 Jul

5 Reasons to fall in love with Whirlowbrook Hall!
Hello…
…and welcome back to our brand new and improved blog! Have you missed us?
If you read our previous blog posts or if you are new around here, we would like to take this moment to introduce you to Whirlowbrook Hall and tell you a bit about who we are, what we do and why we love our beautiful venue so much.
Let's start with a bit of history… Whirlowbrook Hall was built in 1906 for Percy Fawcett who worked as a chief engineer and was awarded an OBE for his contribution to the war effort through his role in the organisation and expansion of the steel works in 1920. Following on from this, Sir Walter Benton who was a leading industrialist, then bought Whirlowbrook Hall in 1920. It wasn't until 1951 that the hall became accessible to the general public.
Whirlowbrook Hall is now an exclusive use Wedding and Events Venue, holding many private and public events throughout the year. In addition to Weddings, we can accommodate any event that you can think of including birthday parties, conferences, baby naming ceremonies and funeral wakes. We also love hosting themed events which we open to the public during national holidays, with the festive season being our favourite – Santa Sunday lunches, Christmas Day and even New Year's Eve Cocktail Parties being the top of the list.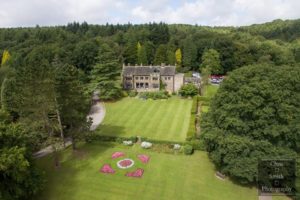 Photo by Chris Smith Photography
So what makes our venue so special? It was hard to whittle it down, but here are our top 5 reasons that give Whirlowbrook Hall the WOW factor!
Exclusively Yours
When you book your Wedding at Whirlowbrook Hall you will receive full exclusive use of the whole venue for your special day. So not only do you not need to worry about bumping into another Bride/ Groom on your Wedding day, you don't need to worry about there being any guests present who aren't part of your Wedding. You have private use of the whole building including the ready room and the 'chill out' room which is a perfect space for the kids (or the big kids) to relax throughout the day. You will have the undivided attention of the staff too, who will be there to ensure your day is perfect from to start to finish. It is not just Weddings, we are more than happy to offer exclusive use for other event bookings such as parties and baby naming celebrations too. Likewise, for conference bookings of 40 delegates or more you will have exclusive use of the venue and all of the break out rooms.
Glorious Grounds
There is no denying it, the grounds of Whirlowbrook Park are simply stunning and create the most perfect back drop for photographs. From hidden ponds and rockery areas adorned with beautiful flowers which bloom into life throughout the year, to sprawling woodland perfect romantic photos of the happy couple- there really is something for everyone. We find it hard to choose our favourite season as the grounds look so wonderful throughout the year, they look equally as lovely on a scorching Summer's day when the flowers are all in bloom as on a crisp Autumn morning when the leaves have turned orange and the slight frost on the grass glistens in the sunlight. It is difficult to explain how absolutely beautiful they are, if you haven't seen them for yourself, and there are endless places to have photographs – your photographers will keep you out there for hours if they had the chance!
Fabulous Food
At Whirlowbrook Hall we pride ourselves on being as bespoke as possible, and this is certainly the case when it comes to our food. We are always listening to the feedback and ideas of our wonderful customers and we have created wedding and event menus which we feel have something for everyone. If you are keen on sticking with tradition we have some real crowd pleasers on our traditional menu such as roast beef and Yorkshire puddings and sticky toffee pudding. For those wanting a more informal, relaxed affair our tapas menu with sharing dishes work perfectly. Our street food experience is a real treat for your guests, where instead of the food being served on a buffet station our lovely staff circulate with trays of tasty treats for everyone to enjoy. Looking for an alternative to canapes? Why not consider our grazing table- delicious food which is beautifully presented and really creates a WOW factor. We hope you get the idea, we have something for everyone but if there is dish that you have always dreamed of having at your wedding or event then we would really love to hear about your plans and create a bespoke menu just for you. Of course it goes without saying, we have amazing vegan options available too and can cater for all dietary requirements and lifestyle choices! We love the great feedback we get about our food, and one of our favourite things we have read recently was from Ed and Teresa, a lovely couple who married at the venue in May and chose our contemporary menu:
"The food surpassed all expectations. Whirlowbrook's kitchen team is one of the best anywhere. They worked with us over a number of months to devise a menu that met the needs of guests with almost every dietary requirement imaginable!"
Your Wedding… Your Way!
Whilst the venue has plenty of charm and character, Whirlowbrook Hall is neutrally decorated throughout which means any colour scheme or theme you may be planning will go! You don't need to worry about anything clashing and you can chose the exact colours you want. Over the years we have seen our Garden Suite completely transformed with various different venue styling, and you can really put your own stamp on the venue and ensure your Wedding is exactly how you have always envisaged it to be. We like to think we provide the best of both worlds, we let you get creative and decorate the venue however you choose whilst still providing you with all the basics you will need such as tables, chairs, linen, crockery and cutlery…all the things which are very important and you wouldn't want to have to worry about sorting yourselves!
Tremendous Team
Our wonderful team at Whirlowbrook Hall are dedicated to ensure your wedding or event is perfect. Right from the moment you come to view the venue or make a booking with us, you be introduced to a member of our sales team (either Lucy or Lucy, nice and easy to remember) who will be looking after you throughout all stages of the planning process and who can be involved as much or as little as you need!
If you choose to hold your Wedding day with us, from the moment you arrive to get ready you will have Jacqueline, our ready room host, on hand to look after you and assist with those last minute preparations. Our operations team, lead by Charlotte and assisted by Chloe and Karla, have a wealth of experience running all sorts of events and will make sure the running of your day goes perfectly. We are so proud that for the past 6 years we have been awarded Top Rated Wedding Venue in South Yorkshire by Wedding Dates, solely based on the reviews of our past couples, and our team have played a huge part in receiving these accolades. We are already working on a blog to help you get to know our  fabulous team more!
So we hope you have enjoyed this introductory blog post and that we have given you a little bit of insight into Whirlowbrook Hall but stay tuned for many upcoming blog posts featuring the latest trends in the Wedding and Events Industry, a chance to meet our wonderful team, lots of industry insight from our recommended suppliers and top tips along the way.
Thank you so much for reading, we hope you enjoyed the first blog post and we will see you all very soon with the next one!
For more information about Whirlowbrook Hall  please call 0114 236 61 42 or e-mail enquiries@whirlowbrook.co.uk.