30 Dec

A look back at 2019! Our top 5 moments at Whirlowbrook Hall

Welcome to our final blog of 2019! We hope you have had a wonderful year and are looking forward to 2020. At Whirlowbrook Hall, we have had another fabulous year full of lots of weddings, private functions and public events. We are already looking forward to the year ahead and have some great things planned- so watch this space! But before we move into a new decade, we wanted to take a look back at some of our favourite moments and events from this year. There were so many great occasions to choose from, but we managed to narrow it down to our top five…

Our Vegan Bloggers Event- March 2019
Earlier this year, to launch our brand new vegan menus, we hosted a bloggers event where we invited a variety of different guests to sample some of our new dishes and give their verdict. Our menus are constantly evolving to ensure we are always moving forward and catering for all different dietary requirements and lifestyle choices. As we have all read, the number of people opting to live a vegan lifestyle has risen significantly in the past view years with the number of vegans in Great Britain quadrupling between 2014 and 2019. Therefore we were really keen to develop a new vegan menu, full of tasty and innovative dishes, to ensure we were catering for all of our guests. Our bloggers event was the first event we had held of this style, and we were intrigued to see what our guests would write! The event was a huge success, the room was dressed perfectly in a bang on trend coral colour scheme, the guests were fabulous and the food was delicious and greatly received- the English vegan wine went down a treat too. We really enjoyed reading all of the wonderful posts from the bloggers who attended, and we look forward to hosting more events in 2020!
Unwrapping the Secrets to Christmas Event Planning with Liz Taylor- September 2019
In September, we were absolutely thrilled to welcome Liz Taylor of the award winning Taylor Lynn Corporation, to Whirlowbrook Hall. With numerous years of experience in planning the most breath-taking events, and with countless celebrity clients on her books, we were so excited to hear all her top tips and secrets about how to plan the perfect festive event. We loved hearing her expert advice and wonderful anecdotes about the incredible occasions which she has arranged. We of course relished the opportunity to get into the festive spirit early, putting up some Christmas decorations and serving a seasonal buffet to the fabulous guest who had joined us. We were so pleased to be able to host this event, and it was certainly one of our highlights of the year!
Some very special wedding guests!
Over the years, we have welcomed so many guests to Whirlowbrook Hall and 2019 has been no exception. We are so lucky to meet such a wide variety of people, and are always so delighted to welcome them into our venue. There are always some guests who leave a lasting impression on our staff, and this year we welcomed some very special guests indeed! Some of our most memorable were the alpacas who have joined us a couple of times this year. At Mr and Mrs Tunnicliff's wedding, back in March, the groom had arranged for some alpacas to join them on their special day as a surprise for the bride with them being one of her favourite animals. The joy on her face when she saw them for the first time was absolutely amazing, and was definitely one of our favourite moments of the year!
Back in the spring, 'May the 4th' to be precise, we were delighted when some Storm Troopers and Darth Vader himself made a special appearance to greet guests as the exited the ceremony room. We wonder who will join us next year… you will have to stay tuned to find out!
Best of British Yorkshire Life Luncheon—September 2019
September proved a busy but incredibly exciting month for us, and on 18th September we were delighted to host a luncheon with Yorkshire Life Magazine. The lunch had a 'best of British theme' and we served up some delicious dishes which showcased some of the best ingredients our fine isle has to offer. Each course was paired with a delightful English wine, something which has become increasingly popular throughout 2019 and is a trend we hope will continue into 2020 too! The British theme was also incorporated into the venue styling provided by Kurly Bird Events, the table centre pieces featured red, white and blue elements mixed with plenty of greenery and floating candles to give the look a modern feel. We were joined by some wonderful guests, and it was great to meet lots of new people and catch up with old friends too. We were over the moon to see such a fabulous write up in Yorkshire Life Magazine and would like to say a huge thank you to all of the team there.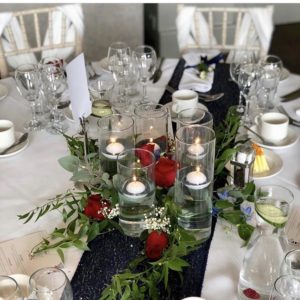 Another year of wonderful weddings!
We know this one isn't technically just a single event or moment, but we had to give a mention to all of the weddings which we have held throughout 2019. (It would be impossible to whittle it down to just one!). It is always so special to all of our team when couples chose our venue to host their big day, and we love being part of such a joyous occasion. We have the privilege of meeting such a wide variety of people from all around the world, just this year alone we have welcomed guests from Japan, Australia, America, France, China and more. As you know we like to think of Whirlowbrook Hall as a 'blank canvas' for wedding couples to decorate however they wish, and we absolutely love seeing all of the ways people transform our venue to match their colour scheme and show their personality. We pride ourselves on being as bespoke as possible, and we love that no two weddings are ever the same at our venue. Roll on 2020 and lots more wonderful couples saying 'I Do!'.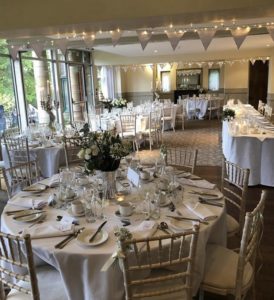 So there you have it, our top five events/ moments from 2019. We hope you have enjoyed our little trip back down memory lane- we certainly did! We would like to take this opportunity to say a huge thank you to all of our amazing couples, customers both old and new, suppliers, staff and friends of Whirlowbrook Hall for all of your support in 2019. We can't wait to make 2020 even better!
If you are interested in holding a wedding or an event at Whirlowbrook Hall please do get in touch.
Please call 0114 236 61 42 or e-mail enquiries@whirlowbrook.co.uk.