12 Aug

Afternoon Tea Weddings at Whirlowbrook Hall

Ahh Afternoon Tea – a truly British institution and one which has to be experienced by everyone as a British rite of passage. There are many ways to enjoy afternoon tea and during Afternoon Tea Week which takes place from 12th – 18th August, many people will be sampling more than just cucumber sandwiches and clotted cream scones. At Vine Hotels, each venue prides itself of the uniqueness of its Afternoon Teas from the truly Vegan tea which includes sumptuous vegan cakes and delicacies right the way through to a quintessential afternoon tea at the Laura Ashley The Tea Room at The Mercure Sheffield Kenwood Hall Hotel & Spa.

In fact, Afternoon Tea is becoming a huge trend for weddings with couples looking to not only create something bespoke but also to bring an informal feel to their occasion. Whirlowbrook Hall has its own Afternoon Tea Wedding Packages available such is the growing demand for intimate informal dining.

Lucy Plummer, Events Organiser at Whirlowbrook Hall gives her tips on how to create a bespoke Afternoon Tea style wedding reception:

'Many couples want to create a classic English Wedding with a modern twist and what is more English than Afternoon Tea. It's becoming a great way to cater for both intimate gatherings or large parties using banqueting tables to display all the delicious delicacies. During Afternoon Tea Week we will of course see how innovative the tradition has become with venues clamouring to create the most unique of teas and here at Whirlowbrook we pride ourselves on our superb packages that make your day into a tea party your guests will never forget.

'Think about how to dress your venue to fit in with the Afternoon Tea theme – colourful, pastel bunting and stunning wild flowers will all add to the essentially English flavour of your event as will your welcome drink. Dress a table in gingham table cloths and allow guests to help themselves to a Pimms on the patio or a glass of fizz.'

'When it comes to the main event – Think about not only choosing finger foods and sandwiches that will get guests talking but also how you display them. Choose gorgeous, vintage cake stands and bring back the traditional doilie for decoration. And don't forget to think about how you serve your tea – think mis-matching retro tea pots that are easy to serve from. Also consider serving alternative hot drinks too but we think Yorkshire Tea is best!'

'Afternoon Teas are of course a chance to indulge in lots of different cakes and these could take centre stage instead of a wedding cake with guests treated to carrot cake, Bakewell tarts, Victoria Sponge and of course freshly baked scones with jam and clotted cream'

Lucy adds: 'Afternoon Tea looks set to be a growing wedding trend for 2020 and we have found that they are a resounding success – the only problem a couple will encounter is whether to put jam or cream on their scone first and for that we are staying on the fence.'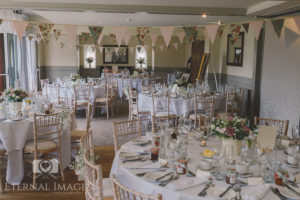 Photo by Eternal Images Photography Ltd.
To download a copy of our Afternoon Tea Wedding packages please click here.
For more information about Whirlowbrook Hall  please call 0114 236 61 42 or e-mail enquiries@whirlowbrook.co.uk.