08 Jul

Crazy about Living Coral! Our guide to bringing Pantone's colour of the year into your Wedding.

Since Pantone announced their colour of the year was Living Coral, we have seen a rise in this gorgeous shade being used throughout venue styling. It's one of our favourite colours to work with as it brings so much life into our venue and it looks amazing along with our neutral decor. Here are our suggestions and tips about how to work Living Coral into your big day.

Less is More!
When it comes to incorporating coral into your wedding try not to overdo it. With a colour as vibrant as this, just a 'pop' will go a long way. It may be a good idea to pick a different, more natural shade such as white, nude or grey as your 'base' colour and then simply layer Living Coral on top. Whirlowbrook Hall provide crisp white linen for the tables, and whilst swapping this for coral cloths might be a bit much, a lovely coral table runner in a satin or chiffon fabric will make a great impact without being OTT. Likewise, instead of switching out white linen napkins completely why not add a simple coral ribbon or lace overlay to them- adding just hint of colour. Living coral is such a stand out shade that centrepieces don't need to be large to make an impact, just few simple jars with some flowers will still make a statement in their own right.
Venue Styling by Kurly Bird Events Ltd.
Fantastic Flowers
Flowers are a really easy way to bring a desired colour scheme into your wedding, in particular the Bride's bouquet. We spoke with Sam from Fantail Designer Florist who recently designed the bouquet of one of lovely brides. She offered us this insight:
"As florists we always work with our brides to realise their vision for the perfect wedding day, and we always try to stay on trend, both with style and colour. Lydia's bouquet was a domed beauty of vibrant colours bringing in peach, coral and pink tones. We included the 'Miss Piggy' Rose, Ivory Dahlia, Pink Astilbe, Coral Peony, Brunia and the divinely swirly Vuvuzela Rose. We also featured Thlaspi and Eucalyptus foliage. If you were looking for a bolder, brighter appearance we would consider incorporating brighter pinks. However it's not always about adding bright colours, you also need to consider the fundamentals of the design. You could bring white, ivory and grey tones which would add contrast. Pastel blues are also a nice alternative to incorporate into a bouquet and make the brighter tones pop, as are succulents which can be wired and planted afterwards. Depending on the general style and genre of the wedding and of the bouquet, trailing ribbons also make a beautiful addition. They impress a whimsically romantic style upon the wedding, giving the whole setting a different mood."
Flowers by Fantail Designer Florist
Perfect Pairings
One of the joys about Living Coral is that is works perfectly with so many colours and can be matched with various shades depending on the desired overall look. One of our all-time favourite combinations is coral with gold and greenery. It is the perfect mix of classic colours with an on-trend twist- added in and some stunning nude tones too = dream Summer wedding combo. Coral and grey have always been a fabulous match, but why not add periwinkle and violet tones into the mix to give a really modern take on a classic combination. When we think of Living Coral you automatically think of Spring and Summer but this doesn't have to be the case, mixing the shade with elements of burgundy, purple, navy and black would create a gorgeous colour scheme for an ultra-chic Winter Wedding.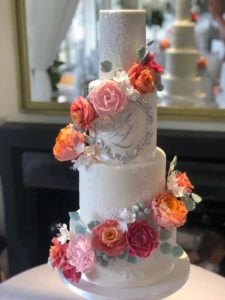 So these are our tips and advice on how to bring coral into your Wedding. Although it is a hot trend right now, it is a stunning colour that we feel definitely has staying power in the world of weddings!
With special thanks to Fantail Designer Florist https://www.fantaildesignerflorist.co.uk/ and Kurly Bird Events Ltd http://www.kurlybirdevents.co.uk/
For more information about Whirlowbrook Hall  please call 0114 236 61 42 or e-mail enquiries@whirlowbrook.co.uk.