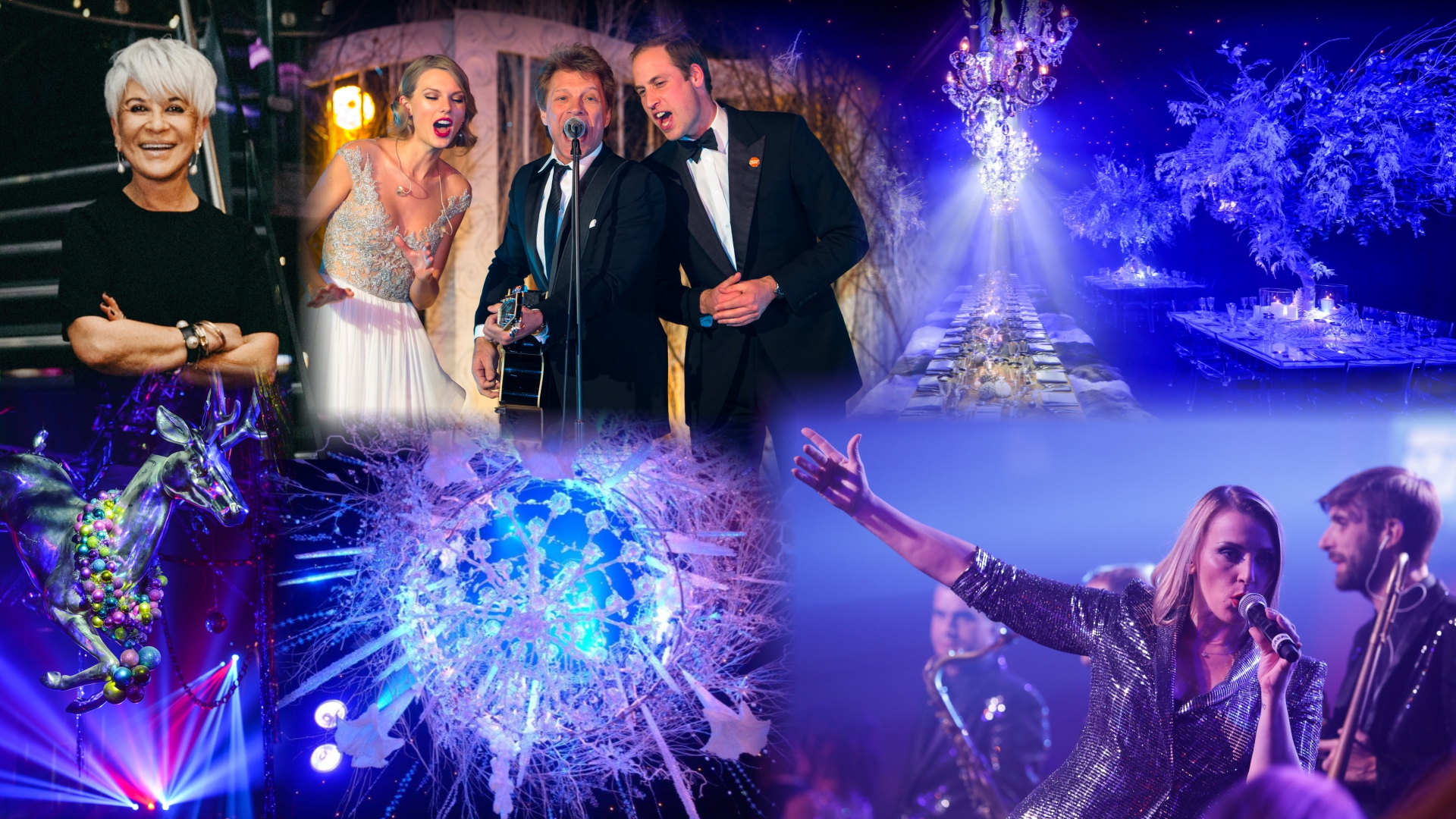 03 Oct

Tips to Planning the Perfect Christmas Party
Liz Taylor, founder and MD of private and corporate event planners, the Taylor Lynn Corporation, took time out of her events schedule to share her tips on planning the perfect Christmas Party with guests who were invited to a networking lunch at Sheffield's stunning Whirlowbrook Hall, part of Vine Hotels. Guests had the opportunity to hear advice and anecdotes from this award-winning event organiser. Here's what she had to say:
"It's only 90 days away and you can't take the Christmas out of Christmas."
But everyone does have a different perception of Christmas and there is no right way or wrong way. What is essential is that you take a drop of eggnog, a bunch of mistletoe, raise the curtain and kiss goodbye to the old, as you celebrate bringing in the new.  In any event, expectations are high – especially in my world, where the client has turned to a professional to create the theatre.
Festive trends
As founder and MD of the Taylor Lynn Corporation, I have been planning and producing corporate and private events for over 30 years.  The 5am starts and the 2am finishes.  The constant challenge to reinvent, reinterpret and re-energise an event.  The bigger the challenge, the greater the sense of achievement.  I am passionate about what I do.  I want to share with you a little of the theatre, drama, passion and backbone; with my tips to planning the perfect Christmas party.
I often get asked early in the year what the coming trends are for this much anticipated time. This year I am in the middle of designing and delivering a Christmas dinner for 80 guests in a marquee immersed in chocolate brown velvet, pull out crackers with menu details and guests names at each place setting printed in a lush copper plate.  A deconstructed Christmas tree decorated with bronze and copper foliage and baubles – all built on a square truss overhead, so it becomes the roof of the dining space. A gospel choir during reception entertaining with Christmas favourites, and a band from Paris to rock the room. So, I've taken some traditional and mixed it with a variety of colours and textures to give it that touch of TLC.
Christmas inevitably attracts trends.  We have provided the décor for private clients where they have spent circa £50k on dressing door frames, trees, banisters. These had to reflect the traditional New York and American movie vision of Christmas that we soak up in those old films.
Then there is the contemporary – where you select ice baubles and use them as name places, throw faux skins over the back of chairs. Then put the light-up reindeer in the front garden. Twee?  Maybe. But providing it's tucked behind a tree, it's fun.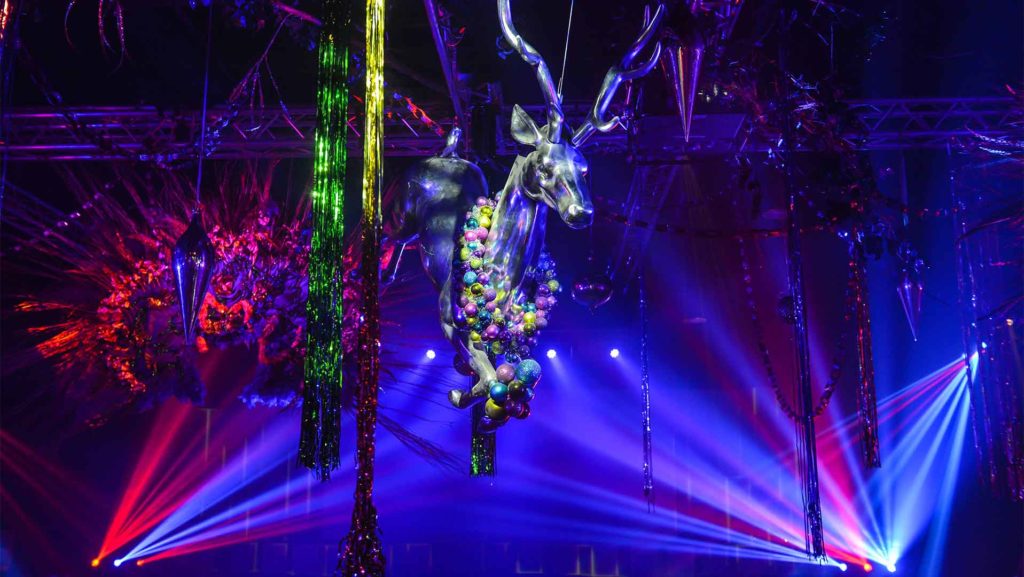 Be bold with colours and dare to be different. Teal, deep reds, copper, gold, orange shades – the rich hues that can be found in winter flowers and foliage.
In this vain, I've just bought 24 copper water glasses which are amazing for £1 each. They will sit at my table on Christmas Day amongst the wood, the bark and tiny tea lights; offering a rustic feel. My Christmas this year is natural bark – baccara roses and candles.
But what of corporate Christmas. For me, there are three vital ingredients that contribute to the TLC wow factor and are the basis for a successful event – exclusive imagination, individuality and that moment least expected. Let me explain……
Exclusive imagination
Its allowing someone to think out of the box and take a concept and create magic. Here's an example. A 21st birthday – the girl who still had the magic of youth and wanted Narnia. And Narnia she got.
Set designers descended and built a magnificent wardrobe door. Creatively lit this was the focus as guests drove into the car park. Our Narnia queen guided them in – through a wardrobe of mink coats that touched the sides into a walkway of characters on stilts and a pathway of leaves. As they walked along the path, they turned a corner with two huskies on a sleigh guiding them into Narnia. Continuing their journey through the snow – with snowflakes falling from the ceiling, before eventually arriving in Narnia. Perspex tables with magnificent white birch trees growing out of them, and a multitude of candles against crystal glassware and opaque crockery. A combination of Narnia and a white Christmas. Anticipation, exclamation and exclusive imagination in abundance.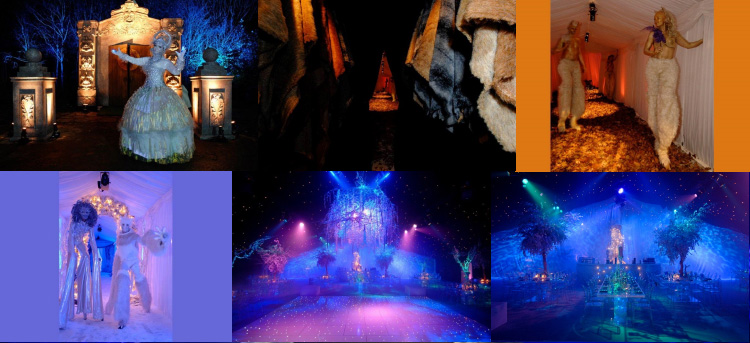 Exclusive imagination – of ideas, of concepts, of entertainment and of venues.  Infusing your Christmas event with some exclusive touches can make all the difference. Take this venue, here at Whirlowbrook Hall, as an example. Exclusive hire means you can party here until the early hours without worrying about the DJ upsetting anyone next door.  Hire the space, and you are lord and lady of the manor. Dress the space to your own taste and you're assured of the staff's full attention – no sharing them with other companies.
When it comes to entertainment – invest in the best.  I only work with exclusive entertainers – phenomenal ensemble bands and the best DJs from the continent.  Companies will often ask me to just book their Christmas party entertainment because they know that we don't offer average.  My belief is that this is an area where a little more should be invested. When we orgnaise parties and clients ask if we have a DJ for £150, we don't. You get what you pay for and mixing music is an art in itself.

Individuality
Individual interpretation. As I said before, you can't take Christmas out of Christmas, but you can interpret it in a unique style.  Take every element of the party and re-imagine it.  Food is a great example.  We fuse food and theatre to great effect.  The rise in informal catering has allowed us to be imaginative.  Sushi bars. Gourmet pizza. And a traditional fish and chip van as guests depart.  Food stations merging into theatrical props. For a more formal meal – take the traditional Christmas turkey and transform it into individual pies served miniature jugs of gravy on the side. Sticky toffee pudding served in shot glasses. And Christmas pudding – serve as a martini. Yes, it is a cocktail!
My most inspiring moments are honestly on my treadmill every morning. With my eclectic mix on full blast music takes me into a most creative corner where I find the impossible. For a Wizard of Oz inspired party, we offered a 10-foot witch greeting guests – and I mean greeting them. A custom-built animated statue guided them into a wicked inspired set, and then at the appropriate time, the entire wall dropped and there was the yellow brick road. The detail in the room and on the tables was insane, with Perspex tables resting on large ruby red shoes.  The entertainment … Diana ross and a serious DJ!  Now that's wow.
The moment least expected
Is the greatest wow factor of the event. When a wall drops on a drum roll … when pyrotechnics burst into the room to announce employee of the year or when a ceiling drops hundreds of hidden petals when they say, 'I do'.
Take a festive party for a financial services client.  Guests ferried in private cars to a farmer's field in Surrey [a surprise in itself for the well-dressed guests]. Walking on a purpose-built footpath carved through wintry woodland – and then – a stunning marquee nestled in the landscape and sprinkled with TLC's winter magic.  Oversized frosted trees. A spectacular lighting production bathing the rustic wooden bar and tables in light.  This surprise venue created out of a challenge.  We scoured the county for the right venue – no luck.  When I hit a brick wall, I start digging.  If we don't have a venue – we build one.  We hired a farmer's field and erected a fabulous marquee.  We cut back the woodland to create an entrance walkway – placed hundreds of candles along the way and voila!   A wow moment for festive party goers that they will remember.
And let's not forget one of the most surprising moments at any Christmas party.  When the Duke of Cambridge bounds onto a stage to sing Livin' on a Prayer with Jon Bon Jovi and Taylor Swift.  A charity event that I was involved with on just two weeks' notice.  Dr Zhivago inspired. Kensington Palace the venue. The guest list a Who's Who. The photos of the Prince and the Rock Stars went global.
Exclusive imagination, individuality and the moment least expected…. three of my top tips to planning the perfect Christmas Party.
All well and good you might say – these sound like unlimited budgets. My mantra is that it's never how much you spend, but how you spend it.  If you have £500 to throw into a reception – don't invest it in an inexperienced and underrated musical act. Invest it in a ten-foot vase filled with an abundance of flower heads that takes the breath away. Or a bar full of festive inspired cocktails served in a milk bottle that oozes dry ice and sustainable branded straws! Paper of course!
At home, styling can be simple but effective too.  Take the festive lunch table.  Here's three different styles you could choose from:
Contemporary Chic
If you are opting for linens, a contemporary feel should use a plain, white, crisp tablecloth as your starting point. Bring your table to life with a gorgeous electric blue silk table runner. Use clear and blue 'crackled effect' glassware to enhance the colour scheme.  Place tall candles into crystal or glass holders and put chunkier ones straight onto mirrors down the table centre.  Dress with frosted ivy, twigs, pinecones and leaves.  Crockery and cutlery are always best kept simple with contemporary white linens, so opt for silver or chrome cutlery.  Add lots of miniature 'snowflake' crystals for sparkle and you'll have an elegant, contemporary table.
Downton Inspired
Or go more traditional – Downton Abbey is influencing styles again with its recent reincarnation at the cinema. Black Watch Tartan linens and deep purple napkins tied with a gold napkin ring.  Add some traditional glamour to this look by using gold candelabra on the table, or some of the fabulous deep gold candles now available. The gold in this style should be deep, and rich, not the highly polished commercial look.  You are creating a very traditional and slightly vintage feel, so a more burnished gold is better.
Handmade or Homemade
Let's not forget, and TV's Kirsty Allsop would be proud of me here, that the 'handmade' family Christmas style is still popular.  Choose a very simple red gingham cloth and then adorn with homemade décor items.  Create a table centre out of a three miniature gingerbread houses filled with chunky candles, or hessian wrapped bowls of nuts, cinnamon sticks, dried oranges and pinecones.  It'll be wonderfully scented.  Just add simple tea lights and red napkins tied with raffia to complete the look.
Glassware is something that really shows quality – don't leave the crystal in the cupboard, get it out and enjoy it! A simple tip is to tie matching Black Watch Tartan ribbon around the stem of each glass; you could even add a delicate sleigh bell for additional tinkle!  For a more earthy Christmas style, add a hessian bow to some of the chunkier wine glasses to reflect the less formal feel of the table.
Personalise your table for maximum effect. The first way to do this is with your crackers, which must be quality whether that is bought or homemade.  Try using different paper or materials to craft them with personalised gifts inside.
The other key personal touch is your place settings.  You could get your children to craft gingerbread name plates with iced names written on top, or simply write names in gold pen onto holly leaves or a plain glass bauble that matches your colour scheme.  Simple. Inexpensive. 
To conclude
I have said this before, but it's truer now than ever.  After 30 years I get up event morning, decide what diet I am on that day, and then embrace the madness.  I love it.  I am lucky enough to have worked in my dream job.  My team inspire me.  My events challenge me still.
2020 marks TLC's 25th anniversary – a time to reflect, celebrate and innovate. We have plans. Big plans.  No sitting on our laurels.  We are forging into 2020 with a healthy order book, unlimited imagination and a hunger to take the company to new levels.  Bring it on!