22 Jul

Top Tables with a Twist!

There is no denying it, when it comes to planning a Wedding one thing that couples find challenging is producing the table plan. This is certainly the case for so many of our couples, we have the pleasure of meeting and working with so many amazing people from all sorts of varying backgrounds but when we ask what was the most stressful part of their planning was they all share the same response.

In particular, couples struggle with who to position on the top table. We regularly get asked 'who should sit on the top table?' and our answer is always 'whoever you want!'

Traditionally, it would be the couple, both sets of parents, the maid of honour and the best man.

However nowadays, the traditional nuclear family is no longer the norm and we all have different family dynamics meaning there is no set way your top table should be, and if your parents have separated and remarried it may leave you in a predicament of who to include. If you are struggling, we have a few suggestions for you.
A Sweetheart Table
This super cute alternative is essentially where the newlyweds sit apart from their guests on their own table facing the rest of the party. Some couples may find this a little off putting and feel like they are too much on show, but there are plenty of advantages. By opting for this style, it eliminates the risk of upsetting a family member by including someone on the top table and not asking them. It also guarantees you can enjoy some time alone and soak up the atmosphere of the wonderful day you have created- just the two of you! So many of our couples stress the importance of taking time on the Wedding day to stop and reflect on what is happening around them, and this will give you a chance to be able to do this.
A Wedding Party Only Table
If you have a large immediate family, or have parents who have remarried, you may want to opt for a top table with no family at all- instead including just the Bridesmaids, Best Man and Ushers. That way, you can place parents/ stepparents on different tables and maybe even give them a special VIP role of hosting their own table, or being the 'head' of their table which will make them feel extra special. It avoids the top table becoming too long, and stops any difficult decisions of which set of parents to include!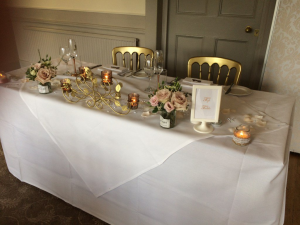 A Banqueting Style Table
You may wish to shirk the traditional room layout altogether of a long top table with round tables for guests, and instead opt for one large banqueting style table. That way, all of your guests are technically on the 'top' table and there is no way anyone can feel left out! This is a really great way for those opting for a more rustic, informal style affair as you can style the table beautifully with a gorgeous hessian table runner, lots of greenery and candles!
A Round Top Table
Even if you know who to include on the top table, a traditional long top might just not be right for you! A round top table is a great way to keep things a little more informal and gives everyone a chance to speak freely. This is a great choice if you feel there may be some awkwardness with the guests who are on the table, as it enables them to relax a little more without feeling they are on display to the rest of the guests. We find that more and more couples are opting for a round top table, which can still be positioned in the middle of the room so you still feel central to all of your guests.
Whatever you decide, try not to stress about the table plan too much (easier said than done- we know!). Everyone who is attending your Wedding is doing so because they love and care about you, and we are sure your guests would hate to think that they are causing you so much stress!
Whirlow Brook's Top Tip:
Try not to leave your table plan to the last minute! You don't necessarily need to wait to get your RSVP's back to do your seating plan, you can actually do it before the guest list is confirmed. As you are writing a guest list, have a seating plan template in front of you and just pencil in where the guest would sit. It certainly doesn't have to be definitive and things may always change, but it will give you a good idea. You will thank us, we promise!
For more information about Whirlow Brook Hall  please call 0114 236 61 42 or e-mail enquiries@whirlowbrook.co.uk.