01 Nov

Whirlowbrook Hall Spiced Pumpkin Soup Recipe!

One thing that optimises autumn time and Halloween is pumpkins! You may have used them to create a beautiful autumnal display in your home, or you may have been busy carving frightful shapes into them with the family. If you have found yourself with a pumpkin or two left over from Halloween, and are wondering what to do with them, then why not turn them into a delicious spiced pumpkin soup? We have a wonderful recipe to share with you, a perfect way to warm up on these cold autumn days!
What you'll need:
250g pumpkin
1 small white onion
1 peeled carrot (optional)
20g butter
Cumin
1g fresh chili
100ml of water
5ml of vegetable oil approx.
The method:
This recipe makes two portions.
-Any part of the pumpkin is good for this recipe, although avoid using the seeds.
-Chop the onion and carrot. Heat approx. 5ml of vegetable oil in a pan and add the onion and carrot. Slightly brown off the vegetables.
-Once browned add the pumpkin, cumin, fresh chili and butter along with 100ml of water  to the pan and slowly simmer. It's best to put a lid on the pan to allow the ingredients to cook and soften without having to keep topping them up with water which will give you a much thicker and creamy texture once cooked.
-When all of the ingredients are cooked & soft, take the pan off the heat and blitz the soup using a hand blender. Put the pan back on the heat to warm through if necessary.
-Carefully pour the soup into 2 bowls, and garnish with some pumpkin seeds. Serve with warm, crusty bread for a hearty autumnal lunch!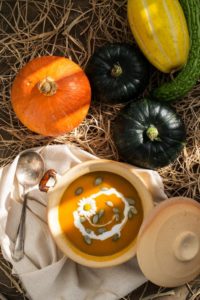 Give it a go and let us know what you think!
If you are interested in holding a wedding or an event at Whirlowbrook Hall please do get in touch.
Please call 0114 236 61 42 or e-mail enquiries@whirlowbrook.co.uk.